Taiwan Labor Market Information
For a long time, Taiwan's labor export has been considered as one of the new directions to help increase the problem of job creation for Vietnamese workers. Not only that, for many people, this is also the choice to increase family income, limit unemployment.
No need for qualifications, no looks or intelligence. With good will and good health, anyone can come to Taiwan's labor export route. However, will this path really change your life? Let's find out with VXT Manpower now!
1.Taiwan labor export market situation
There are some changes in the current Taiwan export market situation as follows:
Labor migration situation
Taiwan is a fairly developed market, but domestic heavy-duty jobs and medical jobs are of little interest to young people and indigenous people.
Mostly nowadays, they are all coming by foreigners. In Taiwan itself, people do not export labor to other countries.
Labor law
Term of employment contract is 3 years, can be extended up to 12 years
Basic salary: NT $ 23,100
Working hours: 8:00 – 17:00, Saturday & Sunday, holidays
Overtime: basic salary multiplied by a factor
Insurance premiums: NT $ 399 / month labor insurance, NT $ 296 / month health insurance were issued
2.Cost and salary
The problem that all Vietnamese workers are concerned about is the cost and the salary they will receive when participating in the Taiwan labor export program.
Expenses to go to Taiwan labor export
Currently, the cost of labor export in Taiwan is usually in the middle, lower than Japan and higher than South Korea.
In 2020, the cost of labor export to Taiwan will range from 3,500 USD to 5700 USD for a 3-year order (equivalent to 80 to 130 million VND).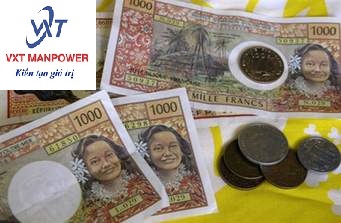 Basic salary of labor
Up to now, the salary that employees will receive when working in Taiwan is about 21,000 to 24,000 NTD / month.
As follows:
Industrial, electronics, factory, and packaging workers have a monthly salary of NT $ 23,000 or more
The salary of a nurse in the nursing home will also fall to NT $ 23,100 per month (The equivalent salary is about 18 million VND).
The maid salary is about NT $ 19,000 a month (equivalent to about 15 million VND).
Every year, the basic salary in Taiwan always increases, so the above figures are only relative.
Note: With the current exchange rate in the article is 1 NT $ = 780 VND.
3.Taiwan labor export conditions
Compared to other countries, meeting the requirements for orders to Taiwan is somewhat simpler:
Age from 20 to 38 years old
If you are a maid: Female between the age of 25 and 49 with a height of over 1m50
Good healthy
Lower secondary school education – graduated from high school or higher
Not suffering from infectious diseases such as HIV, tuberculosis, …
Height and weight: Men over 1m60 and weighing 50kg or more, women over 1m50 and weighing 45kg or more. The weight of the worker is relative.
Profile: Passport, household registration book, ID card or ID card, photo card, legal certificate, labor export registration certificate, health certificate.
These are the basic conditions that need to be met when wanting to export Taiwanese labor in 2020. In general, they are quite simple and not too strict like some other countries.
4. Labor export process to Taiwan
The following are the main steps in the process of participating in the Taiwan labor export that any worker should understand.
Step 1: Pre-qualification and health check. Employees who want to go to Taiwan labor export will have to choose suitable orders through the service company.
After that, they will go directly to the company to refer to order details as well as go to a general health check to ensure that there is no problem.
Step 2: Training and Application Exam. After the medical examination is completed, if meeting the requirements, the employee will participate in language courses, skills and job orientation in a short time from 1-5 days, then will conduct the examination.
Step 3: Post-graduate training. After winning the order, candidates will study resources at the training center of the company, during this time will complete the costs and related procedures.
Step 4: Get Visa and exit. The employee who waits until receiving the Visa will complete the remaining amount for the company and receive the plane ticket to prepare to leave to work in Taiwan.
Step 5: Return to your home country after completing the contract. While working in Taiwan, workers are not allowed to flee and live illegally. If the job is completed well, after the end of the contract, the employer will favorably support the extension of the work visa or return to Vietnam will be assisted by the company to apply for the relevant job.
This is the process of all the labor export companies that we are directly cooperating with.
For more specific advice on Orders, costs, conditions. Please enter your PHONE NUMBER for us to call back
5. Answering questions about labor export to Taiwan:
Here are the questions collected by VXT Manpower over a long period of consulting on Taiwanese export:
1.If you lost your high school degree, can you go to Taiwan labor export?
2.Small myopia can go to Taiwan xklk or not?
3. Can Hepatitis B go to Taiwan?
4.How many years is Taiwan's labor export?
5.What order should I choose to go to Taiwan?
6. Can someone with a criminal record go to Taiwan labor export?
7.Can we go out to work overtime when we go to Taiwan?
8.The difficulties encountered when labor export in Taiwan 2020
More questions will continue to be updated …
6. How is labor export in Taiwan different from Japan?
Because Taiwan's labor export is simpler than Japan, so there will be certain differences when labor export in the two countries mentioned above.
| | | |
| --- | --- | --- |
| | Taiwan | Janpan |
| Costs | From 80 to 130 million | From 99 to 155 million |
| Salary | Basic: from 15 – 20 million VND Overtime: Salary increases from 133% – 170% depending on the company | Basic: from 27 to 40 million VND Overtime: salary increase 120% – 170% depending on the company. |
| Advantages | Easy to join Simple procedure without many constraints | Working environment, good living standards High salary |
| Disadvantages | Salary is a bit low, Living conditions and work is not good | High cost High fighting rate |
In general, at present, the number of Taiwanese labor exporters is higher than previous years. Thanks to the easier terms in the application form. Moreover, the cost per order is also lower.